Quality
The Deepak Fasteners production facilities are ISO 9001, ISO/TS 16949, ISO 14001 and BS OHSAS 18001 Certified. Our fasteners meet or exceed International Standards like DIN, ISO, ASTM, IS, BS etc. Deepak Fasteners has expertise not only in standard products, but also in made-to-order customized products.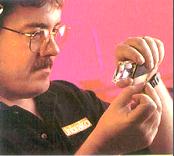 Our Lab is NABL ISO/IEC 17025:2005 certified, which facilitates in maintaining consistent high quality. The fasteners go through strict quality checks at every workstation to achieve maximum quality control for each manufacturing process. Our inspection facilities are equipped with state-of-the-art equipment for testing of both physical and metallurgical aspects of fasteners for the most demanding industries.
State-of-the-art Equipment:
Tensile testing.
Hardness testing.
Salt spray testing.
Digital profile analysis.
Impact testing
MCD testing.
Metallurgical Microscope with Image Analyzer.
Chemical composition analysis (Spectrometer).
Torque tension and friction testing.
X-ray analysis of coating thickness .
Dynamic fatigue testing.
Eddy current testing.
Total Quality, Service and Reliability of Supply